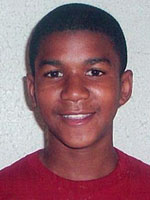 "Walking while black": Trayvon Martin, 17, was shot to death while walking to a family friend's home in Sanford, Fla.
Dear *|MERGE3|* *|MERGE2|*:
The fatal shooting of Trayvon Martin, an unarmed teenager, by a neighborhood watchman has raised questions about Florida's "Stand Your Ground" law – and similar laws in 20 states. The killing also points to the issue of personal gun ownership in America, which the Supreme Court recently decided is an inherent element of "ordered liberty."
In the 2010 case, McDonald v. Chicago, the Court "incorporated" the Second Amendment, meaning that states and municipalities may no longer infringe upon "the right of the people to keep and bear arms." In other words, local gun control measures are now sharply constrained by parameters set by the Court (parameters that the dissent said are impractical and poorly defined).
"Whistling while black":

Emmett Till, 14, was beaten and shot to death after allegedly whistling at a white women in Mississippi in 1955.
In the majority and concurring opinions, Court justices presented an extensive historical examination of gun rights during the past three centuries – particularly in the context of the African-American experience. Before and after the Civil War, blacks were systematically disarmed and prevented from adequately defending themselves against a hostile white population, as the Court documents. The solution today, as it should have been then, is to protect the "fundamental" right to bear arms for self-defense, the Court concluded.
"The use of firearms for self-defense was often the only way black citizens could protect themselves from mob violence," Justice Clarence Thomas wrote regarding tumultuous the post-Civil War period. "Without federal enforcement of the inalienable right to keep and bear arms, these [racist] militias and mobs were tragically successful in waging a campaign of terror against the very people the Fourteenth Amendment had just made citizens."
Dissenting justices took issue with the majority's interpretation of history and the law. "The Constitution's text, history, and structure are not so clear on the matter before us, as evidenced by the groundbreaking nature of today's fractured decision; and this Court lacks both the technical capacity and the localized expertise to assess the wisdom, need, and propriety of most gun-control measures," wrote Justice John Paul Stevens.

Read the rest of this article on SageLaw.
© Bruce T. Murray
*|MERGE7|*