Dear *|MERGE3|* *|MERGE2|*:
Every December ushers in new yuletide ballyhoo over the "correct" holiday greeting: Is it "Merry Christmas" or "Happy Holidays"?
This dispute is emblematic of a larger Kulturkampf in America between "traditionalists" and secularists – often represented in lawsuits by the American Civil Liberties union.
In earlier centuries, the debate over Christmas was entirely different. It turns out the celebration of Christmas was brought to America somewhat late in colonial history by German Lutheran immigrants and Catholics. The early American Puritans and Calvinists objected to the celebration of Christmas, associating it with "the sinister theology of 'Popery,'" noted Justice William Brennan in the 1984 Supreme Court case, Lynch v. Donnelly.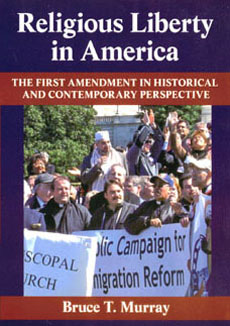 The new University of Massachusetts Press book, Religious Liberty in America: The First Amendment in Historical and Contemporary Perspective by Bruce T. Murray, traces the origins of this and many other debates regarding religion and public life. Murray reflects on the deep rift in America between evangelical Christianity and the nation's liberal, secular consciousness. The book concludes with an analysis of the Supreme Court's evolution in its thinking about religious liberty since the late eighteenth century.
"This book is a splendid presentation of the First Amendment, 'with civil religion as a parallel theme' — especially as presently related to so many issues in American political and religious life. Other books on these issues have been appearing of late, but none as clear and thorough as this one."
— G.H. Shriver, Professor Emeritus, Georgia Southern University
Religious Liberty in America is available at libraries throughout North America and Europe, and it may be purchased from the University of Massachusetts Press.
Find out more about the author here.