Bruce Thomas Murray
Curriculum Vitae
Bruce T. Murray is an author, a veteran newspaper journalist and a law student.
Murray is author of the University of Massachusetts Press book, Religious Liberty in America: The First Amendment in Historical and Contemporary Perspective. In the book, Murray surveys religion and politics in America for the past 400 years – focusing especially on contemporary issues such as religious symbols in the public square, the Supreme Court and the "culture wars." The Association of College and Research Libraries named Religious Liberty in America an "Outstanding Academic Book."
A veteran of the newspaper business, Murray worked for 11 years as a reporter and editor at daily newspapers throughout the United States, most recently the Orange County Register (Santa Ana, Calif.) and the Los Angeles Times. Murray began his newspaper career at the Santa Barbara Independent, and he subsequently worked at the Daily Times-Republic in Watseka, Ill., Rolla Daily News in Rolla, Mo., and the Daily Advertiser in Lafayette, La.
In 2001, Murray switched from print to online publishing. He developed and managed Web sites for several nonprofits and businesses, while at the same time developing his skills as an educational writer. Murray is a highly versatile writer, covering a broad category of subjects including economics, energy, the environment, climate change, risk analysis, alternative energy, and energy policy. Murray has also covered science, biotech, health, land use and homeland security.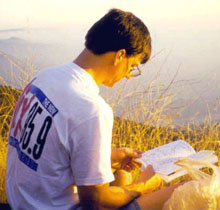 Murray studied English and German literature at the University of California, Santa Barbara. He also studied French at the University of Southwestern Louisiana and the University of Sainte Anne, Church Point, Nova Scotia. He is currently an honor roll student at Thomas Jefferson School of Law in San Diego.