A question of conscience?
University of Massachusetts Press book examines core value behind the First Amendment
Two university instructors who recently refused to sign the California State Oath of Allegiance have drawn attention to a key aspect of the First Amendment that is often overlooked – the issue of conscience.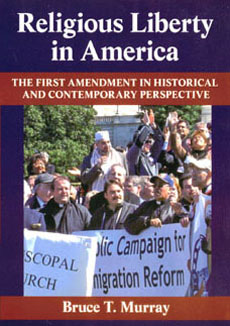 The University of Massachusetts Press book, Religious Liberty in America: The First Amendment in Historical and Contemporary Perspective by Bruce T. Murray, explores the underlying bases of the First Amendment – and how it is applied in modern times.
James Madison's initial draft of the First Amendment explicitly prohibited any government infringement upon individual freedom of conscience. The wording was changed, but the fundamental principle remains. Claims of conscience are given wide latitude at both the judicial level and by "legislative grace."
Religious Liberty in America traces the roots of the First Amendment – from colonial times to the Founding period and subsequent interpretation by the Supreme Court. As an extension of the free exercise of religion, the Court has long recognized conscientious objection in a variety of contexts, including recitation of the Pledge of Allegiance, compulsory military service and even use of psychedelic drugs for sacramental purposes.
Murray's book further surveys religion in American society for the past 400 years – from early debates to present controversies, such as the mixing of religion and politics, battles over religious symbols in the public square, the "culture wars," immigration and faith-based initiatives.
"Bruce Murray seeks to lay out historically and conceptually the issues behind the two religious liberty clauses in the First Amendment. In doing so, he introduces and traces such significant topics as the development of religious pluralism and its ironic counterpart, civil religion. Nowhere is there such a clear and concise explanation of the issues as Murray offers in this book."
– Philip Goff, Professor of Religious Studies and Director of the Center for the Study of Religion and American Culture, Indiana University-Purdue University, Indianapolis.
Purchase Religious Liberty in America on the University of Massachusetts Press Web site or call 800-537-5487.
Murray is a graduate of the University of California, Santa Barbara. Find out more about the author here.