Scholarly Citations

Religious Liberty in America

has been cited or quoted in the following scholarly publications and articles:
Law journals
UC Davis Law Professor Alan Brownstein quotes Religious Liberty in America in his discussion of problems with the "originalist" approach to interpreting the Religious Liberty Clauses of the First Amendment. Originalism seeks to discover the original intent of the Framers and the historical conditions under which the Constitution was drafted; and then interpret modern cases according to these "original" principles. Brownstein notes that when the Constitution was drafted, "the polity was all but exclusively monotheistic, almost universally Christian, and overwhelmingly Protestant," citing Chapter 1 of Religious Liberty in America. Chapter 7 discusses originalism as it is held by Supreme Court justices Antonin Scalia and Clarence Thomas. (The Cardozo Law Review, 2009, pg. 206.)
Cynthia Koploy cites Religious Liberty in America in the Northwestern University Law Review article dealing with the Free Exercise Clause and religious practices that can be considered extreme, such as exorcism. Koploy cites Religious Liberty in America in the context of her discussion of the 1878 polygamy case, Reynolds v. United States, in which the Supreme Court first differentiated between religious belief and religious action. She also cites the book in her discussion of Employment Division v. Smith – which set a "new neutrality" standard with regard to generally applicable state laws that impinge on certain religious practices, such as the sacramental use of illegal drugs.
Susan Henderson-Utis cites Religious Liberty in America in her Howard Law Journal article, "What Would the Founding Fathers Do? The Rise of Religious Programs in the United States Prison System." Henderson-Utis notes the influence of the philosopher Montesquieu on the Founding Fathers, citing Chapter 3 of Religious Liberty in America. Chapter 6 discusses prison ministries in the context of faith-based initiatives. (Howard Law Journal, Winter, 2009, pg. 463.)
Academic journals
Brigham Young University Law Professor Brett Scharffs cites Religious Liberty in America in his article, "Volunteerism, Charitable Giving, and Religion: The U.S. Example," in the Review of Faith & International Affairs (Vol. 7, No. 3, Fall 2009). Scharffs discusses how the structure of U.S. law fosters charitable giving; and how religious organizations are a focal point for philanthropy in America.
Religious Liberty in America is noted in the journal's list of "recent scholarship." Also see the History News Network.
Cpedia, the automated encyclopedia from Cuil, notes that Religious Liberty in America chronicles the development of government and faith-based partnerships; and how such partnerships are conducted under the mandate of separation of church and state.
---
More news on
Religious Liberty in America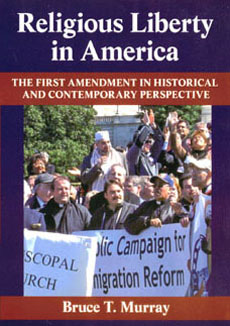 UMass Press books in the news
Religious Liberty in America is one of about 700 books honored from a pool of about 7,000 books reviewed by the library journal.
The File Room lists Religious Liberty in America in its bibliography of anti-censorship resources. The File Room is hosted and maintained by the National Coalition Against Censorship.
CalWestern highlighted Murray's article, "Guns and Religion: Where and When Constitutional Rights Apply," published in the Santa Barbara Independent.
---
Reviews of Religious Liberty in America
"By looking at the over 200-year history of the First Amendment and attempting to 'distill the volumes of debate, background and case law into seven chapters,' Murray presents an especially helpful depiction for his intended audience of students, journalists and general readers. ... Religious Liberty in America efficiently accomplishes its stated task to provide a non/ pre-scholarly audience with a thorough introduction to the history and contemporary circumstances concerning the First Amendment. Bruce T. Murray deserves praise for his success as a narrator."
—Brandon M. Crowe, Ph.D., School of Historical, Philosophical and Religious Studies, Arizona State University
(from Reviews in Religion & Theology, History and Sociology of Religion, Wiley-Blackwell Publishing, Vol. 17, Issue 2, 2010)

"The book's most important success is how well Murray connects current controversies with past events, always well positioned in the broader context of First Amendment religious freedom goals and objectives. As an example of this approach, he presents in a serious way the very idea of people of faith as mainstream Americans seeking opportunities through their religious practices to understand and give meaning to their lives."
— Kurt Hohenstein, Director of Paralegal Program and Co-Director of Law & Society Program, Winona State University (from Humanities & Social Sciences, H-Law, November, 2010)
"In this book, the First Amendment is explored through historical documents, courtroom decisions, governmental policy, and its effects on the daily lives of people in America. Bruce T. Murray intends and succeeds in creating an introductory book which is managable and informative."
— Elizabeth Tauba Ingenthron, Graduate Theological Union, Berkeley, Calif. (from the Anglican Theological Review, Vol. 92, No. 1, Winter 2010)
"This book provides an interesting history of religious liberty in America and helps provide context to the topic of this guide. Additionally, the book examines religious liberty in public schools and discusses the concept of neutrality as a guiding principle for the government's relationship to religion."
— Research Guide for Prof. Nancy Johnson's Advanced Legal Research class, Georgia State University College of Law
See more book reviews here, and also see book reviews focusing on the law.