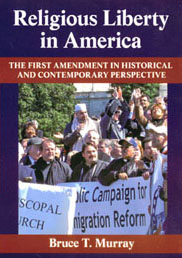 Issues covered in
The First Amendment in Historical and Contemporary Perspective
The First Freedom
Courts diverge over the meaning of 'separation of church and state' – and how far this doctrine should be carried. The divergence in the courts reflects ambivalence in the broader society over the proper role of religion in public life. (Release date: May 4, 2010)
The story of the First Amendment during the past decade is one of continual revision by the judiciary and significant expansion of executive authority. Author Bruce T. Murray explores the "First Liberty" – past and present – in the University of Massachusetts Press book, Religious Liberty in America: The First Amendment in Historical and Contemporary Perspective. (Release date: Jan. 1, 2009)
The Supreme Court
Justice Clarence Thomas believes that the First Amendment's Establishment Clause should not be "incorporated," while other conservative members of the High Court are leaning toward incorporation the Second Amendment. See an analysis comparing Thomas's views on the First and Second Amendment. (Release date: March 12, 2010; updated June 28, 2010)
Sonia Sotomayor's appointment to the Supreme Court brings the number of Catholics on the Court to six (out of nine). What, if anything, will this mean for the direction of the Court? The University of Massachusetts Press book, Religious Liberty in America: The First Amendment in Historical and Contemporary Perspective by Bruce T. Murray, includes a chapter on the Supreme Court and analyzes the previous two appointees, John Roberts and Sam Alito. (Release date: Aug. 15, 2009)
Judge Sonia Sotomayor was confirmed Aug. 6 as the 111th justice to the U.S. Supreme Court, with a decisive 68-31 vote in the Senate. Although the confirmation hearings provided an opportunity for Senators to posture for their constituents, they provided little insight into the prospective justices' legal processes and reasoning.
(News releases: July 17, 2009 and Aug. 6, 2009)
Religious Liberty in America explores the Supreme Court's evolution in its interpretation of the First Amendment for the past 200-plus years. (Release date: May 19, 2008)
Faith-based initiatives
President Barack Obama's Office of Faith-Based and Neighborhood Partnerships is a continuation of George W. Bush's Faith-Based and Community Initiatives. The White House initiatives blur the line separating church and state. Religious Liberty in America provides an in-depth analysis of the issue. (Release date: Feb. 9, 2009)
The Founders
The Founding Founders often spoke of God and religion, but were they advocating a "Christian nation?" The Founders' words are often appropriated to support particular ideologies that the Founders didn't necessarily support. The Founders' philosophy – and how it is applied today – are further examined in the University of Massachusetts Press book, Religious Liberty in America: The First Amendment in Historical and Contemporary Perspective by Bruce T. Murray. (Release date: Feb. 19, 2010)
Abraham Lincoln
An analysis of Abraham Lincoln's rhetoric in terms of civil religion – and in contrast to American exceptionalism. Lincoln's reflections on the Civil War are further examined in the University of Massachusetts Press book, Religious Liberty in America: The First Amendment in Historical and Contemporary Perspective by Bruce T. Murray. (Release date: Feb. 8, 2010)
Freedom of Conscience
Two university instructors who recently refused to sign the California State Oath of Allegiance have drawn attention to a key aspect of the First Amendment that is often overlooked – the issue of conscience. Religious Liberty in America explores the core element of the First Amendment. (Release date: May 5, 2008)
Political Civility
Political civility in America seems to have taken a dive southward, with a recent spate of rude outbursts, accusations and the ever-blaring talk shows. Often overlooked in the discussion is the role of the First Amendment and religious liberty in America's civil discourse. The University of Massachusetts Press book, Religious Liberty in America: The First Amendment in Historical and Contemporary Perspective by Bruce T. Murray, explores the connection between religious liberty and political civility. (Release date: Sept. 23, 2009; updated Sept. 24, 2010)
Comparing the U.S. and Europe
Religious Liberty in America offers comparison of American and German systems of religious civil rights. (Release date: March 17, 2008)
The Kulturkampf in America heats up every December, when people quarrel over the "correct" greeting: "Merry Christmas" or "Happy Holidays?" Sometimes forgotten — the celebration of Christmas was brought to America late in colonial history by German Lutheran immigrants and Catholics. Religious Liberty in America traces the origins of this and many other debates regarding religion and public life. (Release date: Nov. 12, 2008)
The Olympics
Protests surrounding the Olympic torch relay have highlighted the stark difference in values between nations that guarantee religious liberty, and those that do not. Religious Liberty in America shows how the United States arrived at its unique constitutional arrangement separating church and state, while guaranteeing freedom of religion and individual conscience. (Release date: April 11, 2008)
See more issues covered in The First Amendment in Historical and Contemporary Perspective, including religion and the media, Christmas and the "culture wars," religious and cultural civility, civil religion and immigration, civil religion and economics, Martin Luther King, Barack Obama, the clash of civilizations, religion and terrorism, and the pope.
University of Massachusetts Press
In recent years a series of highly publicized controversies has focused attention on what are arguably the most important 16 words in the U.S. Constitution: "Congress shall make no law respecting an establishment of religion, or prohibiting the free exercise thereof ..." See the UMass Press catalog, Fall-Winter 2007–2008. Also see Web Sage news release.