View from the 'city on a hill'
Civil religion: The key to Obama's rhetoric
• In his first debate with Sen. John McCain, President Barack Obama said that as president, he would "restore that sense that America is that shining beacon on a hill."
• Ronald Reagan invoked the "shining city" his entire political life.
• John Winthrop, the first governor of Massachusetts, declared in 1630 that America, if it obeyed God's commandments, would be a "city on a hill."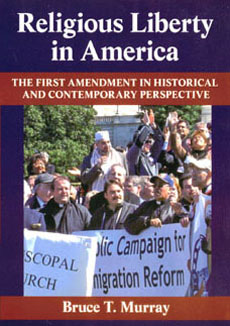 The University of Massachusetts Press book, Religious Liberty in America: The First Amendment in Historical and Contemporary Perspective by Bruce T. Murray, traces the origins of this rhetoric and how it embodies the tradition of American "civil religion" – a belief system that binds the nation's deepest-held values with transcendent meaning. None of the other presidential candidates – Democrat or Republican – was able to capture the essence of civil religion the way Obama enunciated it.
Religious Liberty in America takes an in-depth look at civil religion and all of its permutations from colonial times to the present. In addition, Murray surveys the development of religious pluralism in America for the past 400 years – from early debates to present controversies, such as the mixing of religion and politics, battles over religious symbols in the public square, the "culture wars," immigration and faith-based initiatives.
"Bruce Murray seeks to lay out historically and conceptually the issues behind the two religious liberty clauses in the First Amendment. In doing so, he introduces and traces such significant topics as the development of religious pluralism and its ironic counterpart, civil religion. Nowhere is there such a clear and concise explanation of the issues as Murray offers in this book."
– Philip Goff, Associate Professor of Religious Studies and Director of the Center for the Study of Religion and American Culture, Indiana University-Purdue University, Indianapolis.
Purchase Religious Liberty in America on the University of Massachusetts Press Web site.
Learn more about the author here.