Snapping back:
Book provides insight into political debate
The back-and-forth political sniping among the U.S. presidential candidates has often crossed over into religious territory – most recently statements made by Barack Obama on "guns or religion" and earlier comments made by his former pastor, the Rev. Jeremiah Wright, Jr.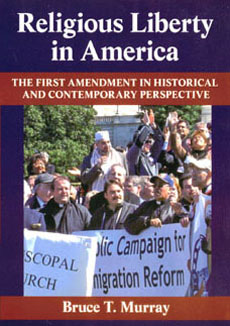 The new University of Massachusetts Press book, Religious Liberty in America: The First Amendment in Historical and Contemporary Perspective by Bruce T. Murray, provides a clear explanation of the connection between religion and politics in America. The book includes an analysis of Obama's rhetoric – placing it in the context of civil religion, the social gospel, and the "prophetic tradition" in African American religion.
Religious Liberty in America further surveys the development of religious pluralism in America for the past 400 years – from early conflicts between Protestants and Catholics to the current dizzying diversity of religious groups – all jockeying for their place at the American table. Throughout his discussion, Murray keeps a close eye on current issues, such as battles over religious symbols in the public square, the "culture wars," immigration, faith-based initiatives and the Supreme Court.
"Bruce Murray seeks to lay out historically and conceptually the issues behind the two religious liberty clauses in the First Amendment. In doing so, he introduces and traces such significant topics as the development of religious pluralism and its ironic counterpart, civil religion. Nowhere is there such a clear and concise explanation of the issues as Murray offers in this book."
– Philip Goff, Associate Professor of Religious Studies and Director of the Center for the Study of Religion and American Culture, Indiana University-Purdue University, Indianapolis.
Purchase Religious Liberty in America on Amazon.com or the University of Massachusetts Press Web site.
Find out more about the author here.