Supreme Court in the spotlight
Book surveys the Court's First Amendment jurisprudence; analyzes Alito and Roberts
The Supreme Court is set to receive its newest member – most likely President Obama's nominee Sonia Sotomayor, who testified before the Senate Judiciary Committee for three days in July. Although confirmation hearings provide an opportunity for Senators to posture for their constituents, they usually provide little insight into the prospective justices' legal processes and reasoning.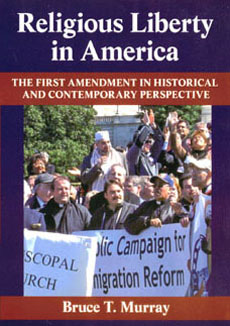 The new University of Massachusetts Press book, Religious Liberty in America: The First Amendment in Historical and Contemporary Perspective by Bruce T. Murray, explores the Supreme Court's evolution in its interpretation of the First Amendment for the past 200-plus years. The book places particular emphasis on the current configuration of the Court and provides analyses of its newest members, John Roberts and Sam Alito.
Murray's book further surveys the development of religious pluralism in America for the past 400 years – from early colonial times to present controversies, such as the mixing of religion and politics, battles over religious symbols in the public square, the "culture wars," immigration and faith-based initiatives.
Religious Liberty in America was selected by Choice – a publication of the Association of College and Research Libraries – as an "Outstanding Academic Book." It has received favorable reviews in numerous other publications, including most recently the Catholic Historical Review:
"This concise and readable book discusses topics relating to the religion clauses of the First Amendment and, more generally, to the interaction of religion and politics in the United States. ... It is a highly accessible introduction to the topics it addresses, complete with references for documentation or further reading. ... The book is well written, engaging, and balanced in its presentations of competing views."
— Daniel O. Conkle, Professor of Law and Adjunct Professor of Religious Studies, Indiana University (from the July, 2009 issue of the Catholic Historical Review).
Purchase Religious Liberty in America on University of Massachusetts Press Web site.
Find out more about the author here.
---
News commentary
"If Judge Sotomayor won't meaningfully discuss any legal topics in front of the Senate, then what's the point of the hearings?" — UC Davis School of Law professor Vikram Amar.
"Senators today do not insist that any nominee reveal what kind of Justice she would make, by disclosing her views on important legal issues," Supreme Court nominee Elena Kagan wrote in a 1995 article criticizing the confirmation process.
"The obsession with a crude and easy liberal/conservative dichotomy in the media and in the Senate hearing room impedes a sophisticated public understanding of judicial process and the law. It conceals more than it reveals." — Peter H. Schuck, Los Angeles Times, July 15, 2009