About SageLaw
SageLaw.us is the Web site for Bruce T. Murray, Esq., as well as an archive of his journalism and academic writing. Also check out Murray's book, Religious Liberty in America: The First Amendment in Historical and Contemporary Perspective, published by University of Massachusetts Press.
Legal qualifications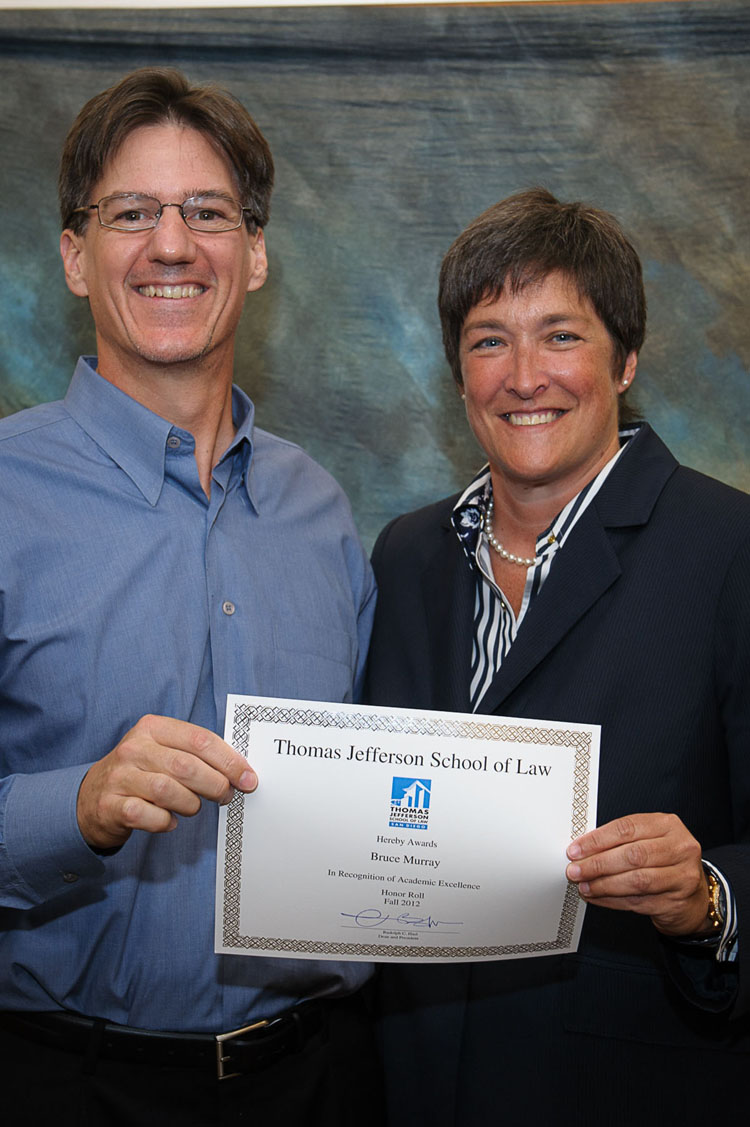 Bruce T. Murray receives the Honor Roll award from
Beth Kransberger,
Associate Dean for Student Affairs at Thomas Jefferson School of Law.
Bruce T. Murray graduated from Thomas Jefferson School of law in spring, 2015, and he passed the July, 2015 California Bar Exam. (Murray was one of the 46.6 percent of the applicants who passed the July exam).
Additionally, Murray received a score of 106 on the Multistate Professional Responsibility Examination. (A score of 86 is required to pass the MPRE in California).
As a law student, Murray excelled in the law of evidence, earning the high-grade award in two evidence-related classes. Additionally, Murray focused on intellectual property — copyrights, trademarks, entertainment law and the media; and also constitutional law and the First Amendment.
Presently, Murray is practicing in the areas of employment law, contracts, disabilities, immigration, wills, trusts and writs. Murray is available for work at a law firm in these and numerous other areas of law.
Awards
Murray received the following awards for his achievements as a student at Thomas Jefferson School of Law:
§ A grade of 4.1 in Professional Responsibility.
§ The Honor Roll for Academic Excellence, spring, 2015; fall, 2014; spring, 2014; and fall, 2012
§ The AmJur award (highest grade award) in California Evidence
§ A grade of 4.0 in California Civil Procedure (including practicum and oral argumentation)
§ A grade of 4.1 on an analysis and critique of Justice Antonin Scalia's judicial philosophy as well as a hypothetical opinion by Scalia
§ A certificate in Global Legal Studies from the TJSL Center for Global Legal Studies
§ Additionally, Murray earned the following awards for his appellate brief dealing with hearsay evidence and the latest developments in the Sixth Amendment's Confrontation Clause:
SageLaw, 'E.D.P'
E = Experience: Bruce T. Murray has worked in the professional world since 1989, when he began his first career, in journalism. Murray carries this professional experience into his law career.
D = Dedication: As a newspaper reporter and editor, Murray would not release a story until it was "fit to print," i.e., all facts triple-checked. Murray carries on this commitment and dedication in his legal career.
P = Professionalism: With more than 20 years experience in the professional world, Murray understands the most effective ways to accomplish tasks — both in cooperation with people and in an adversarial setting.
Lectures and Public Speaking
Bruce T. Murray is past president of Toastmasters Club #1699, a "Select Distinguished Club," in South Pasadena, Calif. Murray is a Toastmasters Competent Leader and Competent Communicator. He is available for speaking engagements at schools, universities, libraries, service clubs and other venues. See more information here.
Also listen to radio interviews with Bruce Murray.