About SageLaw
SageLaw.us is the successor site to WebSage.us. SageLaw features an archive of Bruce T. Murray's writings — from his early newspaper career to his current legal research.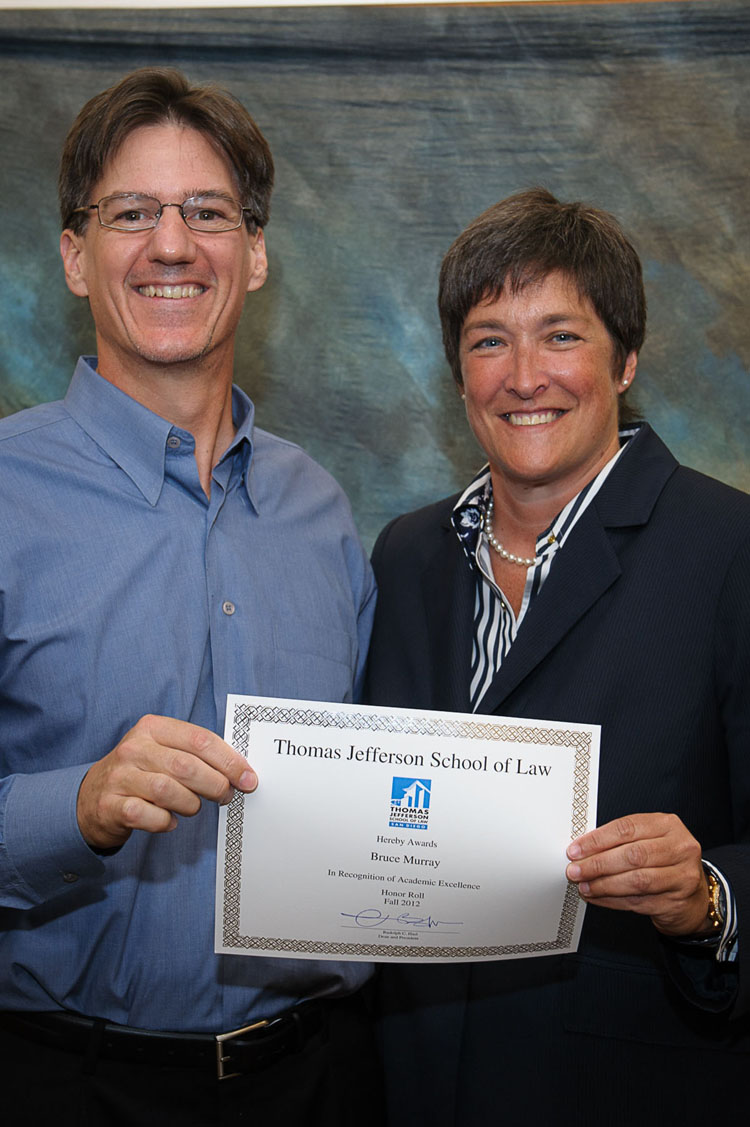 Bruce T. Murray receives the Honor Roll award from
Beth Kransberger,
Associate Dean for Student Affairs at Thomas Jefferson School of Law.
Awards
Bruce T. Murray has received the following awards for his achievements as a student at Thomas Jefferson School of Law:
§ A grade of 4.1 in Professional Responsibility and a score of 106 on the Multistate Professional Responsibility Examination (MPRE)
§ The Honor Roll for Academic Excellence, spring, 2015; fall, 2014; spring, 2014; and fall, 2012
§ The AmJur award (highest grade award) in California Evidence
§ A grade of 4.0 in California Civil Procedure (including practicum and oral argumentation)
§ A grade of 4.1 on an analysis and critique of Justice Antonin Scalia's judicial philosophy as well as a hypothetical opinion by Scalia
§ A certificate in Global Legal Studies from the TJSL Center for Global Legal Studies
§ Additionally, Murray earned the following awards for his appellate brief dealing with hearsay evidence and the latest developments in the Sixth Amendment's Confrontation Clause:
Lectures and Public Speaking
Bruce T. Murray is past president of Toastmasters Club #1699, a "Select Distinguished Club," in South Pasadena, Calif. Murray is a Toastmasters Competent Leader and Competent Communicator. He is available for speaking engagements at schools, universities, libraries, service clubs and other venues. See more information here.
Also listen to radio interviews with Bruce Murray.