Reporting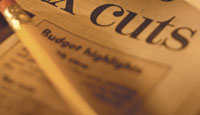 Recent articles and archival material from Bruce Murray's journalism career
The salary scandal in the California city of Bell highlights what happens in the absence of a healthy Fourth Estate. See editorial by Bruce T. Murray, who covered city salaries in the Los Angeles area 20 years ago.
Supreme Court Justice Clarence Thomas holds a novel legal theory on the First Amendment; theories diverge on Second Amendment. See Bruce Murray's article comparing the First and Second Amendments in the Santa Barbara Independent.
Select clips from Bruce Murray's newspaper career, when he covered the courts, cops and the environment.
SageLaw section on torture includes news updates on the torture debate, documents and analysis, including literary perspectives on torture, coverage of the Chapman University debate on torture, and more.
Experts assess the threats to America's infrastructure and food supply; and Abraham Sofaer reviews the evolution of the response to terrorism — from criminal law enforcement to national security threat.
Articles on religion, politics and culture.
Primers on energy, the environment and global climate change.
Reporting around town:
Zócalo panel takes on immigration policy and philosophy.
Porn industry panelists say theirs is "just like any other business," Nov. 28, 2007 at the Zócalo forum.