Religious Liberty in America
Navigating the First Amendment in the Newsroom and Beyond
By Bruce T. Murray
The past decade was marked by a long string of missed and misunderstood stories in the media: The importance of religious values in the 2004 election; the meaning of George W. Bush's many religious references in his speeches; and Faith-Based Initiatives in particular have often flown beneath the media's radar. As a result, the public was under-informed on these critical issues.
Religious Liberty in America: Navigating the First Amendment in the Newsroom and Beyond, aims to inform journalists, students and the general public on this subject. The book was published in 2005 by the Foundation for American Communications (FACS), with funding from the Pew Charitable Trusts. FACS has since closed, and the book is no longer in print.
The project that would eventually lead to the book began as a series of lectures in the FACS/Pew Journalism, Religion & Public Life Program. Bruce Murray covered the lectures and posted summary reports online. The Web content formed the basis of the book's seven chapters. The online articles are reproduced here, following the same chapter flow as the book: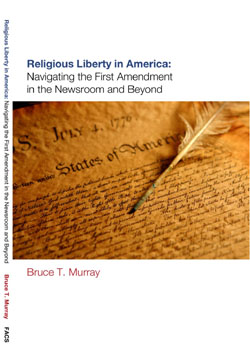 SIDEBARS AND RELATED ARTICLES



A unique facet of this volume, a feature that distinguishes it from other books on the topic, is its journalistic approach. In news parlance, an essential element of a complex news format is the "nut graph" — the kernel of a story that determines its direction. Religious Liberty in America was written so that every chapter and every subchapter has a readily discernible nut graph. It was designed so that a reader could open the book to any particular page and quickly figure out what is happening. This format works not only for the benefit of students and reporters – always in a hurry – but also for the general reader who is looking for accessible information on the critical issue of religion and public life.
Murray's more recent volume, published by the University of Massachusetts Press, is aimed primarily at a university audience, but the same principles apply: coherency and clarity of purpose. Throughout the text, the reader is kept firmly in mind. This is not an exercise in prosaic exhibition, but a clear and concise explanation of a complex topic.
---
Book Reviews and criticism
"Anyone searching for a clear, well-documented primer on religious freedom in this country, with special attention to current case law, can find it here. Murray, a journalist, writes with clarity and, though the book is only a bit over 200 pages, draws on enough original documents to create a compelling and helpful book. A series of useful sidebars within the chapters helps to flesh out the nuances of this subject, of which there are plenty ... It's practically a must for any comprehensive public library that wants to be taken seriously."
— Bill Tammeus, emeritus of the Kansas City Star, and editor of "Faith Matters"
"Bruce T. Murray, a journalist, hopes this book is 'an easy read on a tough topic.' His hope is definitely realized in this volume, which should be required reading for all journalists who touch on this book's subject."
— G.H. Shriver, Professor Emeritus, Georgia Southern University (from the October, 2008 issue of Choice, a publication of the Association of College and Research Libraries, a division of the American Library Association.)
"One of the most distracting aspects of Murray's book is his reliance on journalistic techniques to make his arguments. ... All told, the practice of relying on interviews with scholars (or song lyrics) may be fine when writing for the local tribune, but it is a dubious practice when it comes to presenting a more academic undertaking."
— Anthony Gill, professor of political science, University of Washington, from the Journal of Media and Religion, January, 2009